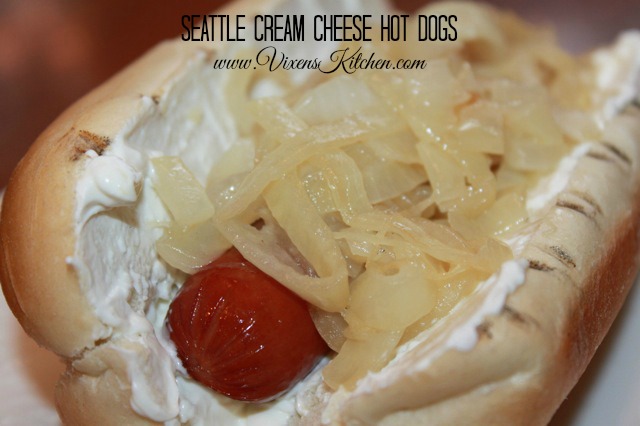 Seattle Cream Cheese Hot Dogs! GO HAWKS

 If you haven't tried one of these yet…. you are in for a treat! Let me tell you about these bad boys. First of all, if you are in Capital Hill or Pioneer Square on a Friday or Saturday night you already know about the Seattle Cream Cheese Hot Dog! Well… you've at least smelled them!! The onions grilling will call to you

 My favorite stand to go to is on Broadway and Pine. The line for these dogs is insane… and the people watching is priceless! There's nothing better. I will stand out in the rain and cold in shorts and a tank top if need be. They are sooooooo worth it! It's the best $5 I could spend. But what's a girl to do when I'm not in Seattle?? Make my own of course!

Seattle Cream Cheese Hot Dogs
Ingredients
Beef hot dogs (make sure you get good quality dogs! I buy the ones from Costco)
Hot dog buns (Again, make sure to buy good quality buns!! I like the big French Hoagie style buns)
4 Tbs. butter
3 Walla Walla onions, sliced (or any sweet onion)
1 (8 oz.) package cream cheese
Salt and pepper
Instructions
In a large sauté pan, melt the butter over medium-low heat. Add the onions and sauté for 15 minutes, or until soft and golden brown. Season with salt and pepper.
Meanwhile, in a small saucepan over low heat, heat up your cream cheese. You just want it warm and soft.
Grill your hot dogs, and toast your buns on the grill as well.
Assemble your dogs by spreading a generous amount of cream cheese on your hot dog buns. Add your hot dog and top with a generous portion of grilled onions! YUM!! That's how I like mine… but feel free to add your regular hot dog condiments as well!
Tools I used: